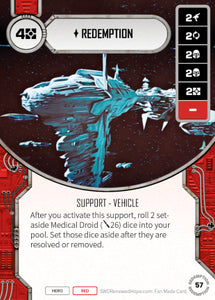 Redemption is the brand new Fan-Made set by the ARH Continuing Committee.

Note that this is a FREE Print and Playset which you can find here.
While you can print your own cards for free at home. We are giving you the ability to have the cards Professionally printed at a great cost. You would need to make your own Proxie dice which is very easy to do! Feel free to message me and I can walk you through how to do them if you don't know.

What you will get 164 cards
Characters - 30 cards (1 of each Unique and 3-4 of each non-unique)
Downgrades - 6 cards (2 of each) 
Events - 50 Cards (2 of each) 
Plots/Battlefields - 8 cards (1 of each)
Supports - 32 cards (2 of each) 
Upgrades - 28 cards (2 of each) 
Flip Cards - 5 Flip Cards (1 of each except 2 Master of Pirates)